01.07.2021
FinComBank Anniversary - 28 years of success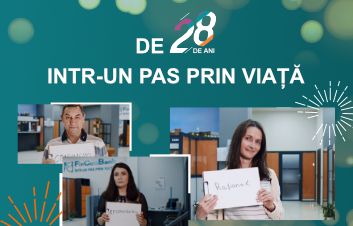 Today, 1st of July 2021, FinComBank celebrates 28 years of success. This period of activity was marked by numerous successes and prodigious experiences, for which we thank our customers and partners, who have constantly assured us with confidence and loyalty.

28 years represents stability, efficiency and success, because:
✔ For 28 years, over 100 thousand customers have demonstrated trust and commitment to the Bank!
✔ For 28 years, the Bank has been actively developing and confirms this by continuously increasing its indicators!
✔ For 28 years, the Bank has been continuously developing and introducing new banking products and services: innovative, technological, accessible and convenient for its customers!
✔ For 28 years, solving a wide range of financial questions and customer problems remains the priority of FinComBank!

In all these years, the Bank has demonstrated increased competitiveness and established stable partnerships.
On the occasion of 28th anniversary, FinComBank announces the launch of the Campaign "Satisfied Customer"!

"On the occasion of FinComBank's birthday, we are launching the Campaign "Satisfied Customer"! To identify how close the bank's ideas and proposals are to our customers, we asked them to share their experience in using banking products and services. And, to make FinComBank's birthday truly festive, we have prepared pleasant surprises for all the bank's customers (individuals), who use our products and services. We thank our loyal customers, thanks to whom we are undoubtedly moving forward and building a new banking experience, based on trust, respect and responsibility. "- said Elena Stovbun, director of FinComBank's Business Development Department.

July 2021 is declared a magical and wonderful month, because every current FinComBank customer is going to receive a surprise gift. All the details will be published on the site fincombank.com. Stay tuned!

Dear FinComBank customers, partners and employees, thank you for your trust, commitment to the Bank and for going with FinComBank for 28 years - in one step through life!

FinComBank - together through life!